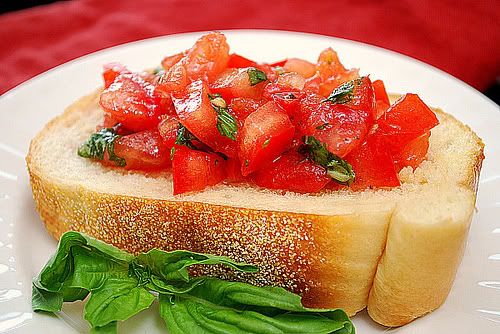 It's the simple things that tend to be the most enjoyable in life. Such is the case for bruschetta. With only 4 main ingredients - plump ruby red tomatoes, fragrant sweet basil, delicate extra virgin olive oil and crusty Italian bread - this is simplicity at it's finest. The key is the ratio of these ingredients to create Bruschetta al Pomodoro.
The following recipe is found the the book, America's Most Wanted Recipes by Ron Douglas. Friends and I tested this recipe to see how it measures up to previous bruschetta we've had at other restaurants including Olive Garden. We even compared the recipe to what was reflected on the
Olive Garden website
. The results? It was perfect. The balance of tomatoes to basil to extra virgin olive oil was spot on... assuming the Italian bread was cut into nice thick slices. This was definitely one of our favorite recipes we created and probably exceeded our expectations!
4 Roma (plum) tomatoes, diced
6-8 fresh basil leaves, chopped
1/4 cup + 2 tablespoons extra virgin olive oil (to drizzle)
Salt & Black pepper to taste
8 slices crusty Italian bread
3 garlic cloves - cut in half crosswise