It's our last day of our Holiday Cookie Countdown and I thought I'd take a break to share some holiday cookies from my friends at
In The Raw
. Check out the links below for the recipe...
Mint and chocolate are a popular holiday pairing and these take both to a whole new and delicious level! Part brownie, part cookie and peppermint to tie them together...
These are the best cookies for shipping and savoring! A sturdy cookie that won't crumble easily, they are best enjoyed by dunking them in a big mug of coffee, tea or even hot cocoa,,,
So we made it through our 12 days of Holiday Cookies! It was fun to share all these cookies with you and I hope you found some to try. Last year, I brought in a whole
cookie and cocoa display
for my coworkers that consisted of over 35 dozen cookies which I made myself and several boxes of cocoa. (Bless my husband for dealing with my baking madness last year!) This year, I've already helped with my son's PTO and made a few items that were included in some teacher cookie trays. I prepared these treats to be included along with other goodies parents made:
Peppermint Fudge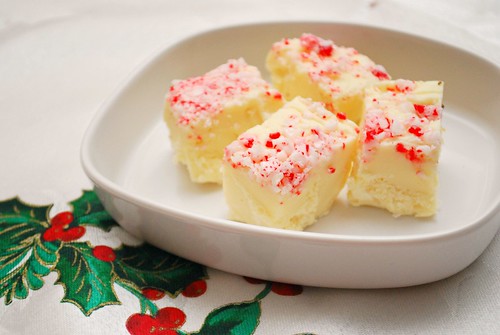 Peppermint Kiss Cookies
But I'm definitely not done! Yesterday, some of us at work had our special "Secret Santa" gift exchange, I simply couldn't pass up the opportunity to give them all a little something. Today, my team at work celebrated our holiday outing together and the giving continued! They all received a tin full of fudge which included:
Turtle Fudge with Salted Caramel & Toasted Pecans
At this point, my husband thought I was finished with my edible gift giving spree. Little does he know I'm gearing up for a holiday sweets table for my office building on Monday. Similar to the cookie and cocoa display last year, my Holiday Sweets Table will have a lot of individually wrapped treats and trays of goodies. I've already started making and packaging up items. So far, these are done...
Chocolate Covered Pretzels
Bourbon Praline Pecan Fudge
Chocolate Macadamia Nut Fudge
Classic Caramel Corn
Toffee Candy
Cinnamon Rolls
Chocolate Peppermint Cupcakes
Assorted Cookies
Assorted Cheesecake Bars
Assorted Cookie Truffle Candies
Assorted Sweet Mini Loaves
It's going to be a sugar filled weekend ahead for me and I hope you've been inspired to join in the season of giving! Have a wonderful weekend and stay warm...